Diagnostic Imaging Navigator [Doc.navi]
Diagnostic Imaging Simulator [simu.Doc]

Doc.navi supports users to improve their skills for diagnosing
highly specialized modern medical imaging. In addition,
you'll find both more efficient clinical management and
patients' satisfaction through our Doc.navi support.
More accurate
diagnosis by
listing possible diseases
Easy to take following
actions by presenting
the possible diseases
More efficient diagnosis
by retrieving and
showing the suspected
cases instantly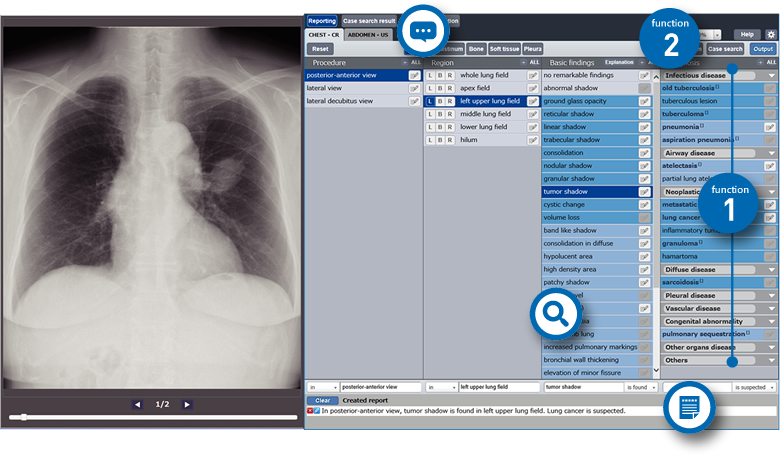 Diagnostic imaging navigation
Doc.navi guides users to select very likely diagnosis step by step from "procedure", "region", and "basic finding".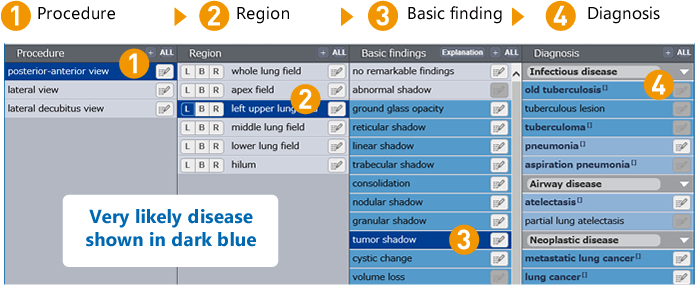 Imaging cases search
Selected and useful case images have information of "patient attribute", "definitive diagnosis", "medical record" and "specialist's explanation." From "basic finding", "diagnosis", etc. imaging cases to compare your patient's one with are searched immediately, which helps you to diagnose efficiently.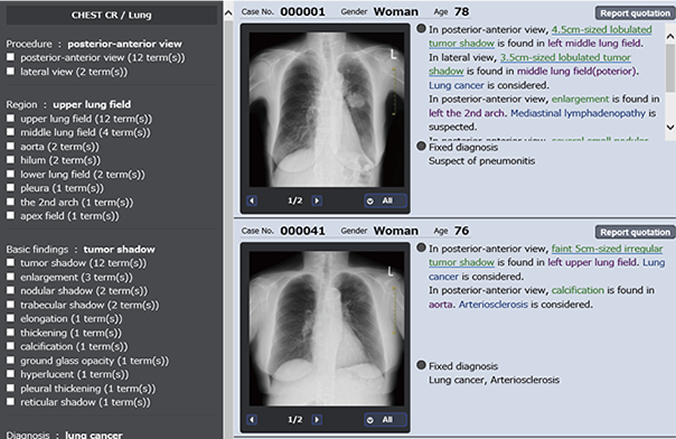 Case explanation
Each case imaging contains specific explanations commented by specialists
how they figured it out.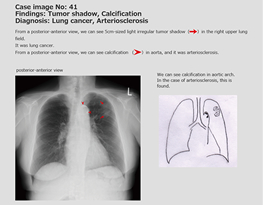 Support
filling medical record

Medical records are automatically and immediately prepared by selecting " region", "basic finding" and "diagnosis". This function shortens the time for recording and your paper work.

Commentary
on findings

Easy to diagnose by reviewing the medical imagings that have pathognomonic findings.

Disease explanation

Simple explanations regarding "diagnostic result", "explanation about disease", "treatment plan", "precautions", etc. are displayed that can be printed for the patients.

Hyogo Prefectural Kakogawa Medical Center
Chief of Radiation Department and Director
(Palliative Medicine)
Eirou Sakai, M.D.
Unsatisfied quality of medical imaging and wrong interpretation of the medical imaging are quite harmful for the patients. The quality of diagnosis of interns and residents and supportive reading by radiological technologists depend on the individuals. I do expect that Doc.navi will support users to improve their comprehensive capacity to read and interprete the medical imaging.


This is a real professional tool for accurate diagnosis and supports making prompt decisions for the patients.
When interpretation of medical imagings is fairly difficult, sample cases displayed guide us to make right diagnosis.
Easy and supportive to explain diagnostic results to patients by showing patient' images.
Easy and quick to prepare the medical records.
Easy to understand the concept and procedure of diagnostic imaging.
Supportive to restudy and recollect about the clinical findings learned while interns and residents as post graduate trainings.

Buidling your capacity to point out abnormalities and interpret the symptoms from the medical imaging by simulating the diagnostic know-how acquired by medical specialists and supervisors.
Anytime anywhere,
educate yourself online
The most effective
cases selected from
the leading university
hospitals in Japan
Build your capacity to
point out abnormalities
and interpret the symptoms
from the medical imaging.
You can exercise yourself repeatedly about basics like practice questions.
Self assessment function provides levels of your performance.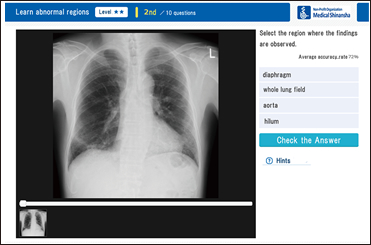 Typical exercises by the difficulty level
Select any difficulty level of the contents to learn.
Select an answer from 4 or 5 choices. Hints may help you.
Check answers and explanations by "Check the Answer."
Check your record and rank after answering all questions.
Possible to challenge again clicking "Again."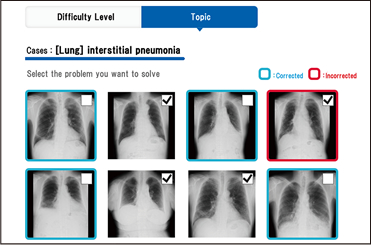 Specific exercises by the topics
Select "Findings" and "Cases" to learn.
Select an answer from 4 or 5 choices. Hints may help you.
Check answers and explanations by "Check the Answer."
Answer all questions, then check your records and performance.
Advice
of
"Basic"
Check your performance and
right answers just after finishing
all questions.
Check your level and achievement
from your record list.
Able to learn repeatedly
on the specific cases.
Clinical processes of diagnostic imaging are on screen.
Simulating diagnostic experiences improves the skill of interpretations.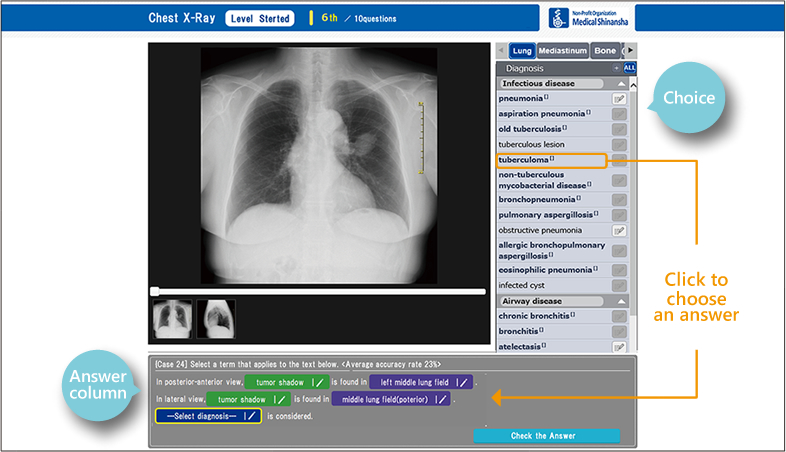 Exercise flow
Set the scope of questions, difficulty level, etc. on the initial screen.
Select the one from the suggested answers on the screen.
Compare your answers and the explanations of right ones.
Answer all questions, then check "Record" to review your performance.
Advice
of
"Practice"
Difficulty levels can be
selected by yourself.
"Hints", narrowing choices,
helps your learning plan
for your goal.
Case explanation
deepens your understanding.
Recommended for from the beginners to the advanced learners.
The effective tool to improve the skill of each learner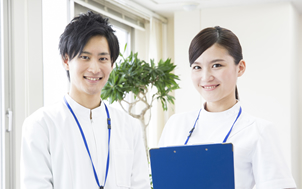 point 1

Possible to select the contents for your skill
You can select the contents from "Region", "Finding" and "Diagnosis." Set your learning preferences to match the skill you need.
point 2

4 levels questions
About 1000 well-selected educational cases are presented as questions. They are divided into 4 levels, introduction, beginner, intermediate and advanced. You can set up questions according to your level.
point 3

Gradual improvement
If you use the function "Hint" well, your level can up gradually. Get the most out of "Hint" when you just start learning. Improving your skill, you'll reduce the use of "Hint" and step up your level gradually.
Users' voice
The almost actual-size images

It is good for me to observe clear case images well on the monitor. In addition, we can see not only the images with lesions but also the normal cases. This helped me a lot.
Simulation of reading images

I simulated the know-how of interpretations such as where and how the lesions were and what they were suspected to be finally. This was good chance for me to think about images neccesary for radiological technologists.
Preparation before getting a position

Knowing images necessary for diagnosis lets us get conscious of reading images useful for diagnosis and treatment. I want to acquire the skill and knowledge at clinical scenes.

Diagnostic Radiologist
Naoki Mihara,
M.D.,Ph.D.
National Cancer
Center Hospital
Division of Medical
Informatics Director
Grab the skill to suspect any abnormality in the medical imaging at sight!
The role of medical imaging are getting more and more important in today's medical science. Development of the modern medical imaging technologies has been providing rather detailed and accurate images that are essential as one of the most important diagnostic tools. Medical images are not just simple data but are valuable information of patients. Interpretation is the work to change mere data of the images into valued information of the patients. Acquiring the skill to interpret the information from the medical imaging is not only the power to understand the patients but also contribute to medical science. Due to cost efficiency, chest radiographs are the most applicable examinations for diagnosing the lung diseases in the most clinics and hospitals. Chest radiographs contain a variety of symptoms, and often provide the suspected diseases. I recommend the people studying medicine to become specialists to interpret the medical imaging by systematic learning methods. Simu.Doc contains many different types of cases that train you to find abnormalities in the medical images at sight. I am proud to introduce our "simu.Doc" to help you as the most powerful tool to get the skills.